For most people who could not afford a pure gold watch, a gold coating may be a good choice for them. However, since it is a thin film coating, it is inevitable that the gold color would fade out. So the primary consideration in choosing the coating material/method is durability. If you want to give your watch a durable coat, you really should think about PVD coating.
What is PVD coating?
PVD coating, or Physical Vapor Deposition, refers to a variety of vacuum deposition techniques where solid metal is vaporized to produce thin films and coating. The main methods of physical vapor deposition include vacuum evaporation, sputtering deposition, arc plasma plating, ion plating, etc. PVD film has fast deposition speed as well as strong adhesion, good diffraction, and a wide application range.
Maybe you will find it not easy to understand it since PVD is a physical terminology. But actually, as a watch lover, you should just know that PVD coating can provide a metal coat to your watch, making it more beautiful and durable.
Why should you choose PVD coating?
PVD coating has high hardness, high wear resistance, low friction coefficient, good corrosion resistance, and chemical stability. So PVD coating would definitely have a longer lifetime than other traditional coatings. Apart from durability, PVD coating provides multiple kinds of metallic colors, such as gold(TiN), rose gold(TiAlN), silver(Cr2N), brass(ZrN), light grey(TiC), and so on. You will always find the one you like.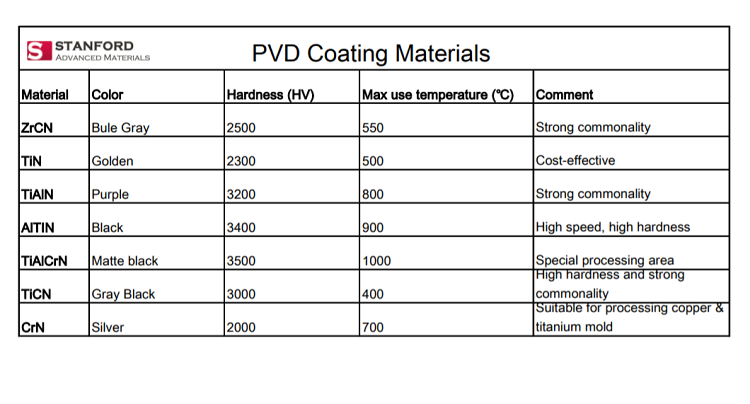 More tips
If you are going to give your watch a PVD coating after reading this blog, I'd like to help you save time in choosing the coating materials. Please consider Stanford Advanced Materials (SAM), which is a global supplier of various technical-grade coating materials as well as high-purity chemicals (up to 99.99999%). All of the coating materials we talked about above can be found on SAM's website. We ensure that you can get your watch the most durable coat here.