It is well known that vacuum coating has two common methods: vacuum evaporation and sputter coating. However, many people have doubts about the difference between evaporation and sputter coating. Let SAM Sputter Targets answer it for you.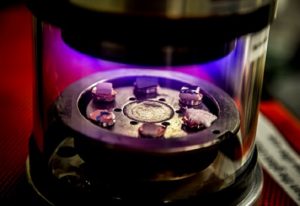 First, let's take a look at the definition of these two words. The vacuum evaporation is carried out by means of resistance heating, electron beam or laser bombardment in an environment with a vacuum of not less than 10-2 Pa, and the evaporation material is heated to a certain temperature to evaporate or sublimate a large number of molecules or atoms, and then directly deposited on a substrate to form a film. The  sputter coating uses a high-speed movement of positive ions generated by gas discharge under the action of an electric field to bombard the cathode target, causing atoms or molecules in the sputtering target to escape and deposit on the surface of the workpiece to be formed, thereby forming a film. By definition, we can see that the evaporation and sputter coating work differently, and they use different ways to make the atoms escape from the target.
The most common heating method for vacuum evaporation is resistance heating method. The advantages of resistance heating method include simple structure, low cost and convenient operation. The disadvantage is that it is not suitable for refractory metals and high temperature resistant dielectric materials. Electron beam heating and laser heating can overcome the shortcomings of resistance heating. Electron beam heating uses a focused electron beam to directly heat the bombarded material, and the kinetic energy of the electron beam becomes thermal energy, causing the material to evaporate. Laser heating uses a high-power laser as a heating source, but due to the high cost of high-power lasers, it can only be used in a few research laboratories. You can refer to Five evaporation sources for heating for detailed information of the heating methods.
Sputter coating has many advantages over vacuum evaporation. For example, any substance can be sputtered, especially elements and compounds with high melting point and low vapor pressure; good adhesion between the sputtered film and the substrate; high film density; good film thickness control and repeatability. The disadvantage is that the equipment is more complicated and requires a high voltage device. In addition, the ion plating film combines the evaporation method and the sputtering method, and has the advantages of strong adhesion between the obtained film and the substrate, a high deposition rate, and a high density of the film.
Each type of coating has its own merits, which is mainly related to the object of sputtering and specific projects. If you are still hesitant to choose which coating method, you can contact SAM Sputter target, a global supplier of various sputtering targets such as metals, alloys, oxides, ceramic materials. We promise to provide satisfying services for you.