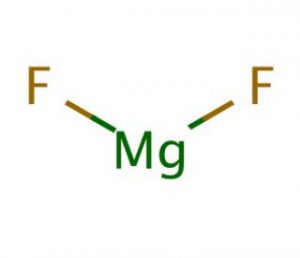 SAM®Magnesium fluoride is an inorganic compound with the formula MgF2, which is a white, fluorescent crystal. It is insoluble in water and alcohol, and soluble in nitric acid. It can be used in ceramics and glass. Magnesium Fluoride is one of the lowest index infrared materials that it is transparent over a wide range of wavelengths, thus is used for optical elements in both the infrared and ultraviolet. It is resistant to thermal and mechanical shock and is twice as hard as Calcium Fluoride.
Production
There are two methods to prepare Magnesium fluoride. For one, the magnesite (magnesium carbonate) and excess hydrofluoric acid are reacted at 90 to 95 ° C, and then filtered, washed, dried, and pulverized to obtain a magnesium fluoride product. For the other, Magnesium fluoride is prepared from magnesium oxide with sources of hydrogen fluoride such as ammonium bifluoride: MgO + (NH4)HF2 → MgF2 + NH3 + H2O
Uses
Magnesium fluoride can be mainly used as a flux for smelting magnesium metal and an additive for electrolytic aluminum; a spectral reagent; and a coating for making ceramics, glass and smelting magnesium, aluminum metal, lens for optical instruments and filters.
Safety
Although magnesium fluoride is chemically stable (it does not decompose when heated and even when it is strongly electrolyzed), so it generally does not harm the human body, but long-term exposure to magnesium fluoride may affect bones, kidneys, central nervous system, espiratory system, eyes and skin, and may cause or exacerbate the onset of asthma.
Magnesium fluoride sputtering target
Magnesium fluoride is a good optical coating material. However, due to some of its characteristics not amenable to sputtering like brittleness, and low thermal conductivity, Indium bonding is recommended for Magnesium fluoride sputtering target. SAM Sputter Target is a global sputtering target manufacturing company. We not only provide Magnesium fluoride sputtering target of high quality and at a competitive price, but also provide target bonding services. You can visit https://www.sputtertargets.net/ for more information.
Our blog updates knowledge and news about sputtering target every week, please follow us for more information.