Mobile phones have become an indispensable part of contemporary society. You may use your mobile phone every day, but you don't know about it. For example, the screens of a mobile phone are mainly divided into a resistive screen and a capacitive screen, but do you know the difference between these two kinds of screens? If you do not know the answer, let's SAM Sputter Targets answer it for you.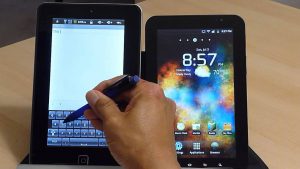 Simply speaking, capacitive screen phones can only be operated with fingers and cannot be operated with ordinary stylus, but we can use a dedicated capacitive screen stylus to substitute the finger to operate; while  resistive screen phones can be operated with a finger or a stylus. From this point of view, some people may think that the latter has an advantage. However, although the capacitive screen can only be operated with a finger, it can largely protect the screen and reduce false touches. Therefore, the two screens actually have their own advantages. Let's then take a look at their strengths and weaknesses.
Capacitive touch screens have the advantages of high sensitivity and easy implementation of multi-touch technology. However, the shortcomings of the capacitive screen are also obvious. The reflective screen of the capacitive screen is severe, and the four-layer composite touch screen of the capacitive technology has uneven transmittance for light of each wavelength, and there is a problem of color distortion. Due to the reflection of light between the layers, the image characters are also blurred. The biggest drawback of capacitive screens is the positioning offset. Since the capacitance varies with temperature, humidity, or grounding conditions, when the ambient temperature, humidity, and environmental electric field change, the positioning of the capacitive screen is shifted, resulting in inaccurate positioning.
Resistive touch screens are inexpensive and easy to produce, and have a long life and high light transmission. However, the ITO coating of the resistive touch screen needs to be strictly controlled. If it is too thin, it is easy to be brittle; if it is too thick, it will reduce the light transmission and form internal reflection to reduce the definition.
Stanford Advanced Materials (SAM) Corporation is a global supplier of various sputtering targets and evaporation materials such as metals, alloys, oxides and ceramic materials, which are widely used in electronics manufacturing. We regularly update knowledge and interesting stories of sputtering targets on our website. If you are interested, please visit https://www.sputtertargets.net/ for more information.