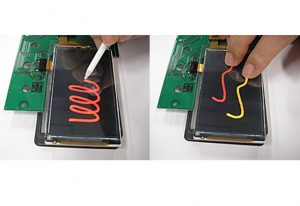 Resistive screens and capacitive screens are the two main kinds of mobile screens on the market today. Generally speaking, resistive screen phones can be operated with a finger or a stylus; while capacitive screen phones can only be operated with fingers and cannot be operated with ordinary stylus, but we can use a dedicated capacitive screen stylus to substitute the finger to operate; while the resistive screen phone can be operated with a finger or a stylus. Why do they have such a difference? Is it related to their working principle? Let's SAM Sputter Targets answer it for you.
The resistive touch screen
The screen body of the resistive touch screen is a multi-layer composite film consisting of a layer of glass or plexiglass as the base layer, and the surface is coated with a transparent conductive layer (ITO film), which is covered with a externally hardened and smooth scratch-resistant plastic layer (the inner surface is also coated with an ITO coating). There are many fine (less than one thousandth of an inch) transparent isolation points between the two conductive layers separating them. When the finger touches the screen, the two layers of ITO film come into contact, causing a change in resistance. The controller calculates the coordinates of the contact point based on the detected resistance change, and then performs corresponding operations according to the coordinates. This technique must apply a force to the screen.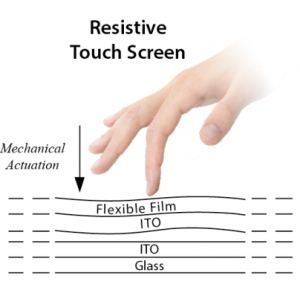 The capacitive touch screen
The capacitive touch screen works by the current sensing of the human body, and the touch screen is composed of a four-layer composite glass screen. When the finger touches the touch screen, the human body electric field, the user and the touch screen surface form a coupling capacitor. For high frequency current, the capacitor is a direct conductor, and the finger takes a small current from the contact point. This current flows out from the electrodes on the four corners of the touch screen, and the current flowing through the four electrodes is proportional to the distance from the finger to the four corners. The controller obtains the position information of the touch point by accurately calculating the ratio of the four currents.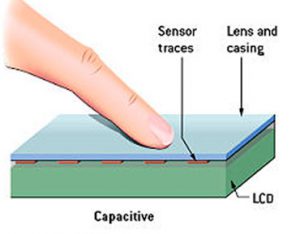 Both of the resistive screen and the capacitive screen have their own advantages and disadvantages. Please refer to our previous article to find out The Difference Between A Capacitive Screen And A Resistive Screen.
Stanford Advanced Materials (SAM) Corporation is a global supplier of various sputtering targets such as metals, alloys, oxides and ceramic materials, which are widely used in electronics manufacturing. We regularly update knowledge and interesting stories of sputtering targets on our website. If you are interested, please visit https://www.sputtertargets.net/ for more information.